Camelot Newsletter - October 2016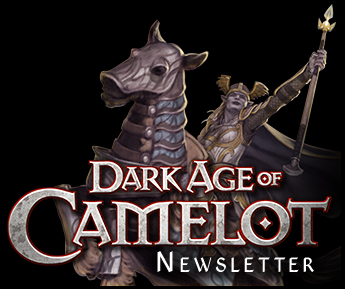 Fifteen Years! Dark Age of Camelot has been a wonderful home, escape, playground, refuge, and of course, battlefield since day one on October 10th, 2001. We're celebrating fifteen glorious years with all of you - including many who've been with us from the start.

So raise your glass, mouse, or keyboard to this venerable game we love and remember the friends you've made, enemies you've conquered, battles you've waged, and fun you've had over the years. Here's to those fond memories and to making new ones for the next fifteen years and beyond!
-John Thornhill
Producer
15th Anniversary and New Features

Come back to Camelot Campaign

In celebration of the 15th Anniversary, we are offering returning players 30 FREE* days to come back and explore, experience, and join the Realm vs Realm struggle! This campaign will run through October and is available to any account that has been inactive for at least 60 days and is in good standing. In order to participate, simply visit the Account Center, login, and re-subscribe; the free 30 days will be automatically applied to the account. This offer is only valid from September 29th through October 31st, 2016!
It's easier than ever to Come Back to Camelot as returning players now get several rewards to help them quickly get up to speed: A new suit of competitive armor, weapon, and jewelry, a cache of bounty points, champion level experience, and much more! For more info, visit the
Campaign page
, or if you're ready to play, simply download the free game client!





15th Anniversary King's Tournament
Ever wanted a statue of your character in your realm's Capital City!? Well, now is your chance! The King's in each realm have put out the call for a Champion to inspire their realms to greater glory in the never-ending war. As a reward for winning the tournament, they will create a statue of you in their city! Click
HERE
for more details on how to win!




Otherworlds Campaign and Darkness Falls streamlining
The Otherworlds Campaign and Darkness Falls content is now more rewarding and streamlined so that less than a full group can complete it. Check out the changes
HERE
and read the Otherworlds Walkthrough
HERE
!
Class Changes
Patch 1.121 brought some serious class changes to the mix. Check out the new and improved Shaman, Warlock, Paladin, Cabalist, Animist, Bainshee, and many, many more in the
1.121
,
1.121B
, and
1.121C
notes!
Traveling Merchants, RvR Bonuses, and Events
Need to stock up on some loot? The Traveling Merchants will have just what you need for the entire month of October! Otherworldly gear makes its first appearance in their wares! Also, enjoy a hefty serving of realm point, bounty point, experience, and crafting bonuses for the entire month! Finally, we'll have some special events during the month, culminating in our annual Halloween event, complete with a new boss to conquer!








15th Anniversary Rewards
We have some exciting veteran, loyalty, and anniversary rewards available now! A 15 year veteran title and housing trophy for loyal accounts and a new cloak reward for all active accounts during the month of October! We'll also be hosting some contests and giveaways of the fabulous 15th year anniversary poster. Click
HERE
for details!






New Website Launch
The brand new Dark Age of Camelot website is launching soon! We will be introducing several familiar features with the website's launch as well as working on some new ones over the next several months, including the Realmwar Status page, Weekly Leaderboards, Item Database, Spellcraft Calculator, Housing Lot Search, and more!





DAoC Swag
With the 15th Anniversary month here, be sure to check out the
official DAoC store
! If you can imagine it, it probably has your favorite knot or realm logo on it!

Upcoming Changes
Necromancer revamp and class changes
The Necromancer class is getting a long-awaited revamp later this fall, which will headline the class changes coming. We'll also be focusing on some tweaks to the 1.121 changes as well as looking at the Spiritmaster, Bonedancer, Enchanter, and Mauler classes!







RvR Improvements
Four words: dynamic underpopulated realm bonuses. Realms that are outnumbered in the frontier will get a nice chunk of bonus realm points for being the underdogs! We're also going to be improving relic and keep capture incentives and re-introducing several popular tower locations to the frontier! Ellan Vannin has been host to some amazing battles so far but we'll be making some additional adjustments to it, including its underground keep encounter and layout behind the milegates, as well as introducing some overall frontier porting and objective changes to help refocus the action around ongoing realm invasions!








UX Improvements
Quickbar and ability list improvements are coming next Spring! We'll also be focusing on the overall UI by modernizing several of its features in the coming year!
Returning to the Game
Returning to the game is as easy as ever! Follow the instructions and videos below and you'll be up and running in no time!
Beginner's Guide
Returning Player's Guide
Account Recovery Update Payment


Character Transfers