Microtransactions Overview
Mithril is DAoC's microtransaction currency, used to buy additional and mostly cosmetic game items. The mithril merchants can be found in each realm's capital city, and mithril is purchased on the store here. Please note: mithril applied in the account center applies to all all accounts linked to that master account. Mithril in game is only available on the paper doll in capital cities.
Where do I get Mithril?
Mithril can be purchased from the
EA store here
and is available in various amounts:
425 Mithril
975 Mithril
2,200 Mithril
5,750 Mithril
Bought my Mithril, now where do I spend it?!
Excellent! Head on to your realm's capital city and locate the Mithril NPC shops.
Please note Mithril is only visible on your character page when in capital cities.
There are 3 Mithril merchants:
General merchant

This merchant sells potions, mounts, and quality of life improvements.

Pattern Merchant

This merchant sells blank armor and weapon patterns that allow you to keep the item you want to template, but make it look like another item you prefer. This merchant also sells mask patterns, which are special cosmetic styles for your character's helm.

Dye Merchant
The Dye Merchant sells omni dyes which can be applied to any armor or weapon regardless of armor type (cloth/leather/studded etc) or weapon (mace/hammer/shield etc)
Location:
Albion - Mithril merchants are located just outside the throne room in Camelot.
Hibernia - Mithril merchants are located just outside the main porter area as you head further into Tir na nOg.
Midgard - Mithril merchants are located by the exit of the main hall porter area.

General merchant
The General Merchant sells character boosts such as Realm points, bounty points, experience points, buff potions, and more. Name, gender and race respecs were added to allow players to change their characters.
Also available to purchase from the General Merchant are Champion Level 15, Master Level 10, respec stones, and a Character Boost token which levels any toon to level 50 and grants CL15 and ML10.
Dragon Mounts
These realm based dragon mounts are unlocked on an entire account when purchased by 1 character. Once purchased, simply visit the Mithril Merchant on additional level 50+ characters on the same account to receive the mount for those characters!
View all realm mounts
here
.
Gryphon Mount
The purchaseable flying Gyrphon mount flies just above the ground and makes the rider the envy of their realm! The Gryphon mount is per character only, not realm or account, and only available to level 50s.
More details on our flying mounts (veteran rewards and MTX) can be found
here
.
Pattern merchant
Show off your own unique DAoC style through transmogrification! Use your favorite glowy on your preferred weapon, keeping the stats you want!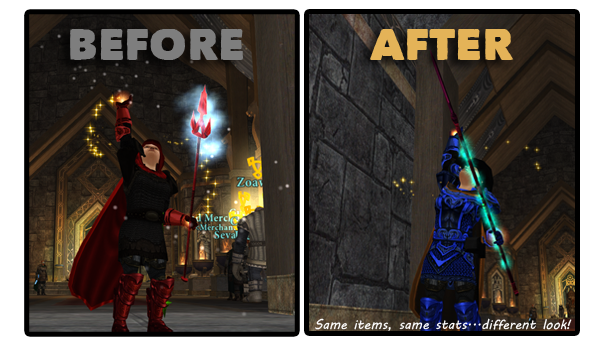 How to transmog
Patterning is just a matter of buying a blank pattern for any item, armor or weapon, copying the original item with the desired look, and applying it to your current item!
This is illustrated in the image above.
Place the blank weapon pattern on the Abyssal Cleric Mace to copy its style.
The pattern changes name to reflect it has been copied and from what item.
Now the pattern is placed on the item the character wants to benefit from its stats, changing it's appearance.
Please note that there are some restrictions, such as a hammer can't be made look like an axe. You can read more about this in detail in the
1.123 patch notes
.
Masks
Mask patterns purchaseable through the MTX store give your character's helm a very different and new look! Simply purchase a mask, and apply it like any pattern to your helm.
All masks can be seen here in our
mask gallery
and all masks are dyeable by cloth dye.
Dye merchant
Omni dyes are dyes that can be applied to any dyable armor, shield, instrument, cloak, weapon, saddle, horse armor, or barding without the typical dye restrictions found on cloth, leather, and enamel dyes. Omni dyes cover all existing dye tints, including weapon-specific dye colors that were previously unavailable for use on armor and also introduce some entirely new colors including Burnt Orange and Fuschia!
Endless Conquest (free) accounts cannot use existing cloth dyes, leather dyes, enamels, weapon lusters, or burnishes but CAN use omni dyes.
Full notes on mtx in
1.123
and
1.125
here