Love is in the air as we celebrate the return of our Valentine's Day event and celebrate President's Day weekend with some RvR bonuses!
This event will run from
Thursday, February 11th until Tuesday, February 16th.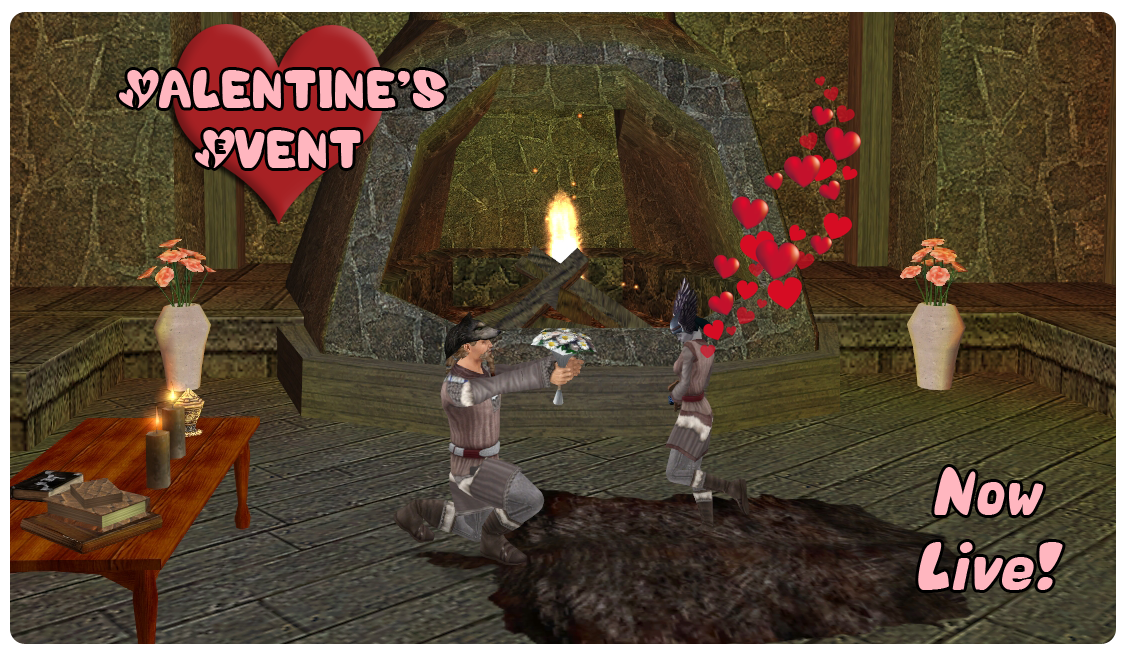 Valentine's Day Event
A Matter of the Heart: This quest will give players of all realms the chance find the imp, Russel, located mainland side of Castle Sauvage/Druim Ligen/Svasud Faste. He's ready to offer some interesting tasks from the local imp's union in return for a Lawn Cupid trophy, experience and coin. Don't forget to speak to Lady Payne and earn your ROG Valentine's Ring or Bracer too!

​Whitman will only continue to drop his One-Time-Drop Valentine's Day Present reward to characters who have not completed the quest: [OTD] Valentine's Day Present.

Keeping Company: This quest will be offered to characters level 45 and above and will have a unique challenge for players in Albion, Midgard and Hibernia. As a reward, players will receive a Tiny Compatriot Crate, experience and coin. Visit Lailen in Jordheim, Pondar Cully in Camelot, and Harris MacCullogh in Tir na Nog to start the quest.
Valentine's Traditions: These quests will offer three old style quests which were part of the original Dark Age of Camelot Valentine's Day content. Players will be able to complete the quest up to eight times, which is based on the number of times the original quest has been issued online. Players will be rewarded with a Hearts Cloak, Heart-Shaped Box, experience and coin. Visit Rumdor in Mag Mell, Hrolf in Mularn, or Sir Prescott in Camelot Hills to start the quest.
RvR Bonuses
In honor of Valentine's day and President's Day weekend, the following bonuses are active for the duration of the event as well!
On Ywain:

25% bonus to RPs from kills
50% bonus to normal XP gain in all classic and shrouded isle zones and dungeons.

On Gaheris:

50% bonus to normal XP gain in all classic and shrouded isle zones and dungeons.
50% bonus to normal RP gain in the capital cities.

In each Capital City:

40% Bonus to Crafting Speed
20% Bonus to Crafting Skill Gain

In all Housing Zones:

20% Bonus to Crafting Speed
10% Bonus to Crafting Skill Gain